Luminous Ink Marked Pai Gow Tiles With Glasses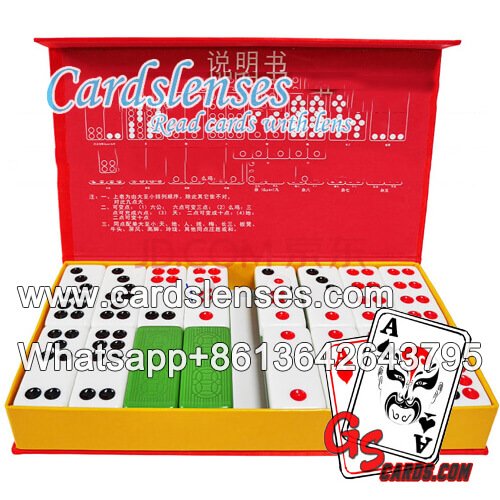 Price:Contact Us
Items:Luminous Marking Domino
Color:Black / White / Green / Blue / Golden
Material:
Plastic
Size:
14#, 16#, 18#, 20#, 22#, 28#
Delivery Time:3-5 Working Days
Application:Pai Gow Games
Get Price
Chat Now
Description
When refer to Pai Gow games, what will be the first up to your mind? I think Win is what everybody wants. As a professional manufacturer of entertainment products, we specialize in developing and selling all kinds of gambling trick tools for various entertainment games. The Pai Gow game is one of them.
Here, we would like to introduce the luminous ink marked Pai Gow tiles for both infrared contact lenses and UV glasses that see invisible ink.
We use the specialized luminous ink to process the professional Pai Gow tiles. After marking, these luminous markings on the processed Pai Gow tiles are invisible to naked eyes; and when you using, the marked Pai Gow will not sticky because they are processed with the invisible ink and giving you the original hand feel just same as the regular Pai Gow tiles.
How To See The Invisible Ink Markings On The Juiced Pai Gow Tiles?
Due to the high confidential of the luminous ink markings on the marked Pai Gow tiles, if you want to see them, our developed professional infrared glasses used to detect invisible ink or invisible ink pen contact lenses is needed.
Why Choose Buy Contact Lenses Marked Pai Gow from GS?
When it comes to buying the luminous ink marked Pai Gow tiles, you can approach our company because the professional quality of products, to achieve 100% customer satisfaction while providing the best possible service and highest integrity deserve your trust.
As the leading entertainment products manufacturer in China, we have developed various kinds of Marked Pai Gow tiles which processed with the latest technology and professional technicians. We have always devoted ourselves to developing and improving more methods for marked Pai Gow tiles to satisfy our customer requirements and demands. If you are a fan of the Pai Gow games, hoping we can get a win-win situation from our cooperation.
Pai Gow size: 14#, 16#, 18#, 20#, 22#, 28#
Pai Gow color: brilliant black, bamboo green, ivory white, sky blue, jade, red, noble golden
If you can't find the style you need in the list, please contact our professional sales for more information.