Best Marked Cards For Sale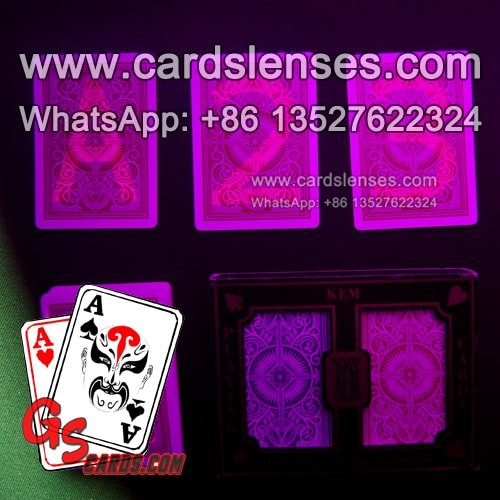 Description
As a professional and experience marked cards supplier, we have the best marked cards for sale. There are many ways to mark cards, for example, mark secret invisible ink marks on the reverses of cards accordance with their coated pattern; using the lemon juice ink to mark luminous ink markings; burn invisible ink onto the backs of cards accordance with the coated color.
Many people seek for the professional luminous ink to mark cards personally, usually they would find that the marked cards they made are inferior and the markings on the backs of the marked deck are visible to the naked eyes most of the time, bad experience! At last they will choose to buy the finished marked deck cards from marked cards manufacturer directly, by this way the quality of marked decks is protected.
The best marked cards for sale in our company are quality guaranteed. Why?
Normal people (compared with our professional technicians), it is very hard to mark the cards perfectly. For example, the ultimate marked cards, it is very easy and just use a pen that creates the mini markings according to the discipline of the pattern of each piece of cards. But it needs exclusive technique, you need to practice a lot and a lot. For the luminous ink marked cards, because of the different colors and different patterns on each piece of card, they required to be marked with different luminous ink. For instance, the Bicycle marked cards for sale, the blue Bicycle cards and red Bicycle cards need to be marked with different invisible ink recipe, this need to be mixed flexibly accordance to the real-time need. How to mix the best suitable invisible ink for the cards I want to mark. One way, just try!
Different from other people who mark cards with invisible ink by hand, normally, the marked cards supplier will process the marked playing cards with a whole set of card marking printer machine which can make the stable and best marked cards for sale.
Mark cards are similar to writing, however, you can write what you want at any time if you have a pen, but mark cards not. If you want to mark cards, you should avoid marking poker cards in moist weather or rainy day since the air humidity is big and will affect the quality of markings on the reverse of cards.
If you want to buy the best invisible ink marked playing cards or know more information about them, just call or email us!
Related Links
Share This
Related Products