Wallet Poker Lens Poker Scanner for Poker Cheating Device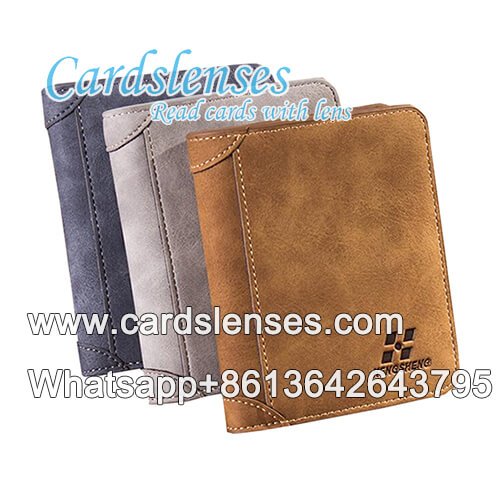 Price:Contact Us
Items:Wallet scanner for barcode poker
Color:Black
Material:
Plastic
Scanning Distance:8-20cm, 20-40cm, 30-60cm
Supply Ability:1000 Pics Per Month
Delivery Time:2-5 Working Days
Application:
Magic Tricks / Home Playing
Get Price
Chat Now
Description
When you playing poker game, such as Omaha and Texas Holdem, you just need to place your wallet on the table, then you can win a big wealth in the game.
Wallet poker barcode marks viewer means that there is a barcode poker scanning camera hidden inside the Horizontal wallet. When you turn it on, and face the scanning camera that inside the wallet to the barcode marks, then the poker barcode marks viewer will scan the barcode and send the scanning data to the barcode playing cards analyzer. No more than 2 seconds, you can receive the analyzing result by the eavesdrop earpiece.
The shortest scanning distance of this kind of wallet poker barcode marks scanner is 8 cm and the longest scanning distance is 35 cm. But it is classify into different types. For example, if you start from 8 cm, then end at 20 cm, and if you start from 20 cm, then end at 35 cm.
This wallet barcode playing deck reader is not chargeable, so if its battery is running out, you can replace the battery. And as a wallet cover, it is convenient to place it on the poker table much easier than you think.
Video Demo