Removable button barcode poker scanner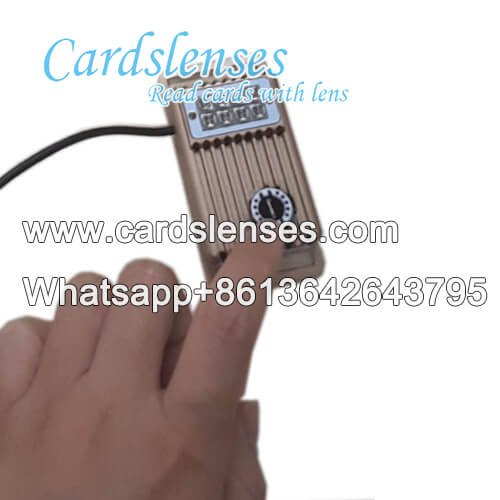 Price:Contact Us
Items:Clothes barcode poker cards camera
Color:Black
Material:
Plastic
Scanning Distance:8-15cm, 10-20cm, 20-40cm, 40-60cm
Delivery Time:2-5 Working Days
Application:Poker Trick, Magic Show, Home Playing
Get Price
Chat Now
Description
A new design poker cheating scanning camera is launched. And we name it as removable shirt button sensor bar-code poker camera.
This button auto sensor poker cheating camera is removable, so you can adjust its position anywhere on your suit, to make it more easily scanning the edge side code marked playing cards. To make sure the auto sensor cheating camera is hidden perfect, the button will be in some dark color, such as black and deep blue.
How it works with invisible code marks playing cards and poker winner analyzer system? Turn on the scanning camera before you start the game, and face it to the side code marks poker cards. After it read the code marks, the auto sensor will send the scanning data automatically to the casino poker analyzer. And within 0.2 second, you will gain the final results by a couple of earpiece.
What you want to hear from the wiretap earpiece?
Actually, you can choose the type of the scanning result you want- the first winner; first winner and the second winner; suits and value of flop. Because you can know the game result in advance, you can decide whether you continue or not.
How to fix the problem of adding and reducing numbers during the game?
There is a remote controller to help you solve this problem. Just need to press the button on the controller, you can change the numbers of the game at random.
Video Demo