Piatnik OPTI four index luminous marked deck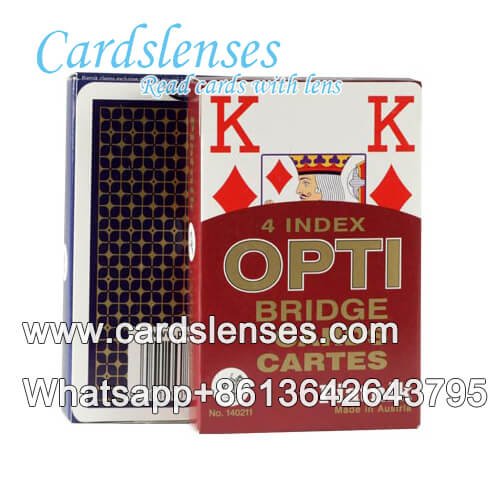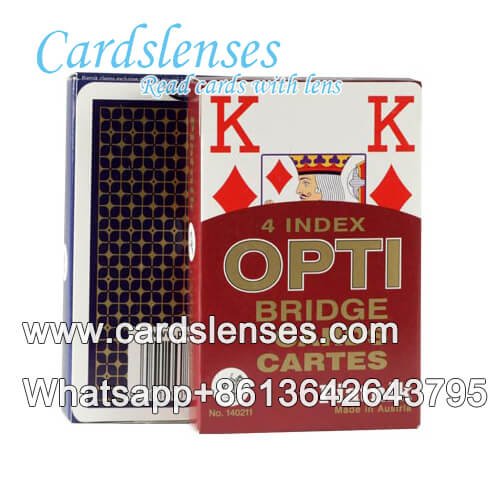 Price:Contact Us
Items:Piatnik marked playing cards
Brand:Piatnik
Origin:Austria
Color:Red / Blue
Size:Bridge Size
Marking:UV / IR / Barcode
Delivery Time:2-5 Working Days
Application:Magic Trick / Poker Games
Get Price
Chat Now
Description
A successful man dare to make great decision when he sees the probability of success, they always got the best chance in life. When in poker game, there are also decisive means for sale in our company, for example, marked cards and contact lenses to see marked playing cards, there are marked cards made by our company of different kinds and Piatnik poker is one of the best brand in Austria.
Piatnik brand is made in Austria and OPTI bridge size 4 index poker cards is one kind of Piatnik poker cards, it is also a kind of playing cards with bridge size 4 jumbo index. The backside graphics are regular little squares, colors of blue and red are available.
Piatnik OPTI bridge size 4 index marked cards are the cards marked with invisible ink on the back, and those marks can be seen only when wearing our infrared contact lenses. What is more, please remenber to buy our infrared contact lenses when you buy our marked cards, for invisible marks we made on Piatnik OPTI bridge size 4 index cards can not be seen by naked eyes or other contact lenses.