Bee No.92 Invisible Ink Cheating Playing Cards for Contact Lenses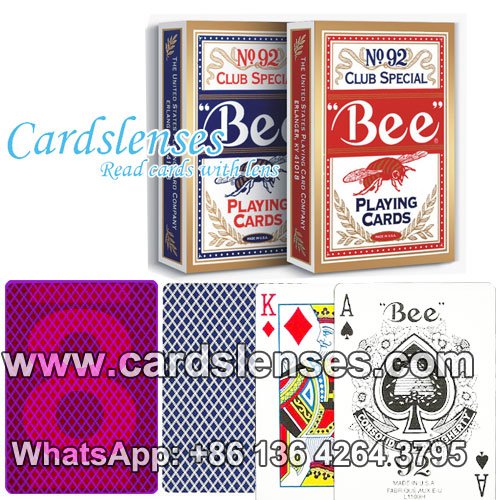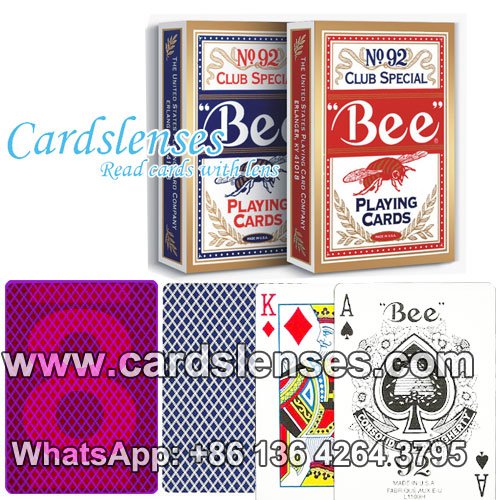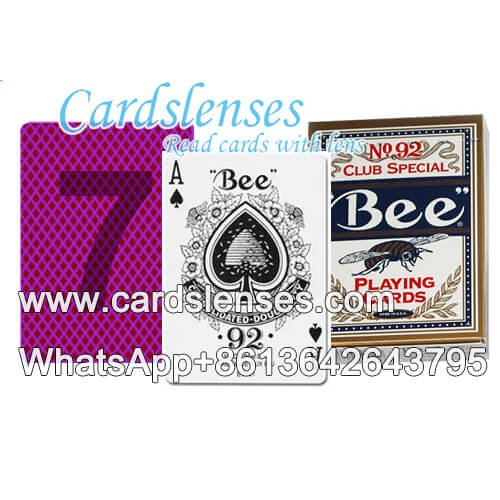 Price:Contact Us
Items:Bee luminous marked cards
Origin:USA
Available Color:red & blue
Size:poker size
Index:standard index
Material:plastic
Get Price
Chat Now
Description
Bee Playing Cards are a casino card brand. They were first manufactured by Consolidated-Dougherty in 1892, hence the number "92" on the Ace of Spades (the standard poker deck is now known as deck type 92); the USPC acquired the company soon after. Standard Bee playing cards have a diamond back, typically blue or red.
Bee No.92 invisible ink playing cards for contact lenses originate from common Bee No. 92, which is a type of cheating poker. Bee cards usually have borderless backs, and the standard diamond back of the card is very regular and low-profile compared to other back designs. Hence invisible ink markings on Bee back decks are easier to be made. Unseen marks like letters, fonts, can be read by wearing special contact lenses, otherwise, you cannot see them at all. Invisible ink concentration can be adjusted to adapt to different color backed poker to achieve the best effect. Of course, it needs professional staff to do this project.
You know many fake imitations of Bee No.92 poker cards exist in the market. Sometimes it is not easy to find the quality product. Now, here is good news that the best and cheapest Bee No.92 invisible ink cheating playing cards for contact lenses are sold in our store. Welcome to contact us.