Copag Dual index poker cards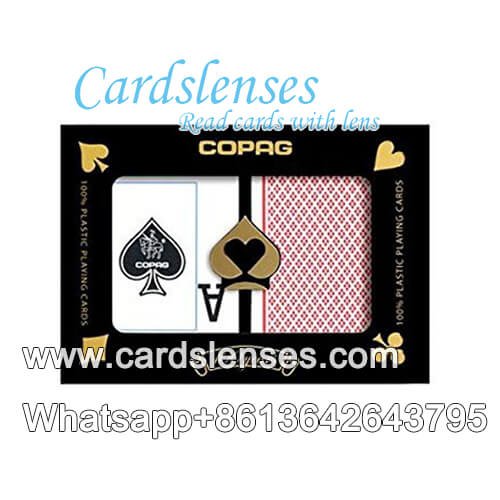 Description
The peek index, also called the dual index, refers to a combination of small indexes on the corners and large indexes on the sides of the cards. Like bifocals, they make it easier to peek at hidden cards and at the same time look at cards that are face up across the table. Made with top quality materials and state-of-the-art technology, these 100% plastic playing cards are manufactured just like the cards featured on televised poker tournaments.
The Copag Dual Index is the latest release from Copag! These feature 2 separate indexes on the same card. These cards are 100% plastic and include the standard black plastic storage case. Perfect for Texas Holdem Players!
COPAG plastic playing cards are made from a exclusively engineered PVC plastic. These cards can handle the wear and tear of normal games, outlasting paper cards up to 500 times. Completely washable, you no need to worry about soiled cards. A quick wipe with a damp washcloth, then dry and they are ready to go.
Additional Information
1. 100% plastic playing cards
2. Poker size (wide) cards (63*88 mm)
3. Dual peek index (small and large index)
4. 52 Cards + 2 Jokers
5. Two colors: red and blue
6. Durable hard plastic storage case
Related Links
Share This
Related Products