Copag 1546 casino playing cards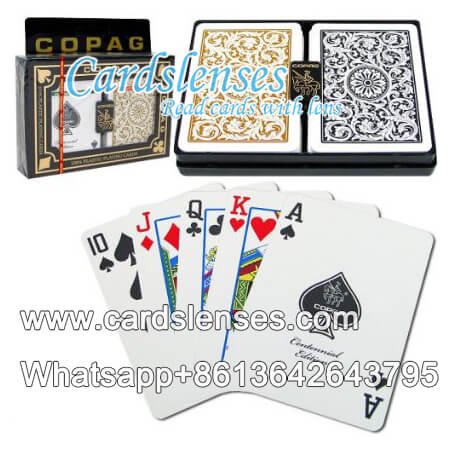 COPAG Plastic cards are the official cards of the WSOP and have a reputation for high quality and long durability. The cards are 100% plastic and They are designed to last up to 100 times longer than a traditional deck of playing cards. Copag cards last longer, shuffle better, and slide across tables in a way that you will never want to play with any other deck of cards again.
Each set comes in a black plastic holder with cover for safe storage. Each set of Copag 1546 cards has two decks of cards, the Copag 1546 cards has 10 colors: red and blue, orange and brown, black and gold, green and burgundy, purple and grey.
Additional Information:
1. 100% plastic playing cards
2. Poker (wide) sized cards (63*88 mm)/Narrow (bridge) size cards(57*88mm)
3. Jumbo (large) index on the corners/Regular (small) index on the corners
4. Durable hard plastic storage case
5. 10 colors: red and blue, orange and brown, black and gold, green and burgundy, purple and grey
Available in:
Wide(Poker), Jumbo Index
Wide(Poker), Regular Index
Narrow(Bridge), Jumbo Index
Narrow(Bridge), Regular Index
Share This