Infrared Contact Lenses
Recently, numbers of clients asked me if we have the infrared or UV contact lenses that can see through normal playing cards, the answer is NOPE! In a certain degree, UV contact lenses are same as the infrared contact lenses. In this article, we focus on infrared contact lenses. The infrared contact lenses are often claimed see-through infrared contact lenses, infrared marked cards contact lenses or IR poker cheating lenses in the current market. In fact, the perspective contact lenses can't be used to see through the non-marked playing cards; they only have the "see-through" function when they are used together with the infrared invisible ink potion. The infrared cheating contact lenses are the best luminous ink readers to see IR invisible ink. Different from the colorful contact lenses or transparent prescription contact lenses, infrared ray contact lenses are specialized developed for seeing luminous marked cards. The infrared filter contacts can see invisible ink is coming with a special wave band in the spectrum - infrared band. The infrared luminous ink only can be revealed by the new model infrared invisible contact lenses.
Actually, all contact lenses for infrared poker cards available are colored, the entire transparent one is still not developed, at least now no. If you ever bought luminous contact lenses, you know that the real infrared poker lens has a black center, the diameters of different contact lenses are diversified. This part plays an essential role in infrared card contact lenses design. It is no need to worry about this black part will change your eyes color; after wearing them, it will be reflected by the black pupil, others can't see any trace of the contact lenses.
There are some common questions about infrared marked cards contact lenses our customers widely concerned about. Such as, where to buy contact lenses; how to choose the best-buy one; are they cost-effective, how to use them. More info, please refer to the following guidelines.
How To Make Infrared Contact Lenses
Usually, the infrared contact lenses only can be bought online. However, it is very inconvenient to some users; and they think infrared contact lenses price online is too high, DIY it at home may be costless. Therefore, many people will search on Google or other alike search engines to collect knowledge about how to make infrared contact lenses at home. Actually, we don't suggest doing so, because make infrared card suit contact lenses for playing cards involves much advanced and sophisticated technology. If you DIY the infrared contact lenses at home, these conditions are almost impossible to be satisfied.
How marked cards factory make infrared contact lenses that can see invisible ink? As a professional supplier of infrared marked playing cards contact lenses, who has sufficiently advanced technology and equipment to produce the best invisible ink contact lenses. In modern marketplace, the latest tech for manufacturing the infrared ink contacts is Sandwich Technology (below picture for your reference). The safe and quality special contact lenses which are made with this art have 3 layers, the thickness of the center layer is only 0.06mm, an incredible figure! The infra-red luminous ink filter is dyed with the state-of-the-art laser staining system, which ensures the filter is safe and secure to all users. Since the infrared filter is inserted into the interlayer, it can prevent users' eyes from reaching the filter directly. Because the filter is developed to get the infrared ink marks on the reverse of the marked deck, if you are the very first time to wear IR contact lenses, don't use them for a long time in the beginning.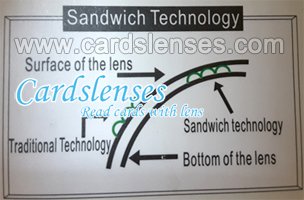 Infrared Contact Lenses Price
Some people try to find the low price IR contacts for marked deck of cards. If compare the quotation among several marked cards suppliers, you will find that there is a big gap between the expensive and cheap contact lens, range from 150 USD to 1000 USD each pair. So most of the buyers prefer to find cheap marked cards lenses. The result with buying the low price infrared marked playing cards contact lenses is the lenses don't work or ineffective in a short time; sometimes cause infection to wears' eyes. Most of our clients asked me same question before they placing the order, it is "is there any guarantee of my order? and then they told me they were cheated before, as they did the payment but didn't get any parcel.
For producing the top quality infrared contact lenses, the original material must in high quality. How to get the good material? The cost of fined material must be purchased in a higher cost than the one in regular quality, take importing the professional contact lenses as an example, although order them in bulk, the price also is high because of strict import tax, let alone others necessary fee, the total cost will be high. No supplier willing to bear the loss in a deal! If sale price of poker contact lens is very cheap, the cost to make the products must is low. How to produce products at low cost? Leave some high costs producing procedure out!
Infrared Contact Lenses For Sale
When referring to infrared invisible ink contact lenses purchase, many people lack ways to check the supplier and don't know if it is a hoax. As a professional playing cards cheating device in China, Cards Lenses has diversified custom-made infrared hot spot contact lenses for all eyes in different colors for sale. The performance of our card game cheat contact lenses is outstanding and stable, all the products we supply are manufactured strictly abided by the internationally accepted quality standard; in addition, strict quality control and safety operation procedure are stringently implemented. They are featured in unique elasticity curved technology and comfortable design. On the basis of advanced technology and good order, the excellent quality of the contacts is effectively guaranteed; the infrared contact lenses of Cards Lenses are easy to be cleaned and have unique elasticity.
The contact lenses for cards we sell are popular in more than 100 countries, if without any specific requirement, the goods will be delivered to all customers by the high-quality, secured and speedy express, FedEx, DHL, TNT, for example.
The infrared contact lenses for sale in our factory are in high-standard and at the best price. Maybe many buyers want to seek the cheapest infra-red contact lenses, just seem as only by this way they can buy infrared contact lenses which are the most value for money. Maybe it is right in some terms, but not always, at least it doesn't apply at infrared contact lenses.
How To Choose The Best-Buy Infrared Contact Lenses
There are so many brands of infrared contact lenses for sale, how to choose the best buy one? There are 4 points please pay high attention to.
1. Don't believe the so-called X-ray game version contact lenses which can see through the regular deck of cards. All the specialized IR marked cards contact lenses are developed for seeing invisible ink marks on the backs of marked playing cards. If the X ray contact lenses exist, why doctor still adopt the complex medical diagnostic X ray television camera instead of wearing a pair of contact lenses to check up the patients? No matter white luminous ink or black light marked playing cards, they all are processed with the personalized chemical potion (luminous ink). The special lenses can invisible marks can check the given infra-red wave band, that is why you can use them to know the cards' information by seeing the backs of the marked deck of cards.
2. The best-buy see-through contact lenses can accommodate various light. For friends who have myopia, wearing infrared contact lenses, a pair of myopia glasses also can be used at the same time. The effectiveness of ultraluminous contact lenses will not be affected.
3. The price of infrared contact lenses for a deck of marked playing cards varies with the source material. For example, The high-grade infrared contact lenses supplied by Cards Lenses are manufactured with anti-scaling non-ionic material, which can protect the lenses from adsorbing protein precipitation, so that the lens is comfortable, healthy, will not aging during the service period.
4. The professional infrared vision contact lenses are made from soft materials, they can be used for a long time. These cheating cards lenses are soft and ultra-thin. If wearing these noble quality contact lenses to see the juice dust card marking, you often without being at all aware of them, they give you an entirely natural look. High-grade infrared marking cards contact lenses are produced with the valued source material. They not only can help users to see the magic marked deck, but also very appropriate for relieving wearer's eyestrain (shouldn't wear contact lenses for a too long time). Best-buy, it means the product is very worth for every penny you pay, not only at the best price but in good quality. Generally, for how to choose the best-buy infrared contact lenses, the rule is, the thinner the better, the more comfortable to wear.
How To Use Infrared Contact Lenses
If you buy these magic infrared contact lenses, and it is the very first time you are going to wear it, you need to have some knowledge of how to protect your eyes from disease, infection as well as other complications.
1. It is better to keep your fingernails in short, because long fingernails are easy to cause damage to the infrared contact lenses.
2. Clear your hands thoroughly beforehand each time, in case of the lenses are infected by the bacteria in your hands.
3. Care or put on or remove the infrared contact lenses on a clean and tidy table to prevent from falling them to the ground.
4. Check if there is any breakage, foreign matters or sediment on the contacts. If they are damaged, they cannot be used. If there is dirt or sediment, wear them after cleansing and rinsing.
5. Identify the front side and opposite side of the contacts, wear them with the front face up. See below instruction image for your reference.
6. Lady who prepares to makeup, please wear the poker cheating lenses before makeup and remove them before taking off make-up.
7. Wearing infrared contact lenses with tweezers and sticks or other auxiliary tools is not recommended. If lack of efficient disinfection, these devices will become the medium for bacteria to contaminate the contact lenses and cause eye irritation. What is more, the kit, like tweezers, extremely easily causes the invisible scratch on the poker cheating lenses.
8. Not all types of eye drops are suitable for infrared contact lenses; unless it is specialized made for infrared contact lenses. If the contact lenses solution is inappropriate to infrared contact lenses, some compositions of the eyedrops will be absorbed by the contacts, which not only makes the rim of contact lens become hard, but also the high concentration of the solution that stays in the infrared contact lenses will damage wearer's ocular tissue.
9. When you don't use the contact lenses, immerse them in PURE WATER (the water you can drink directly), storage in ambient temperature, replace the pure water per week. If you plan to wear them, clean and rinse and disinfect them again.
10. If the eye has secretions, friction feeling or conjunctival hyperemia, or even a white spot on the cornea, don't wear the contact lenses barely and shall go to the hospital ASAP.
11. Should not share your contact lens with others.
12. Check up the eyes often, the review cycle shall not exceed half a year each time.
13. Should not wear the infrared contact lens while you sleep.
Nowadays, due to the advantages of infrared contact lenses, more poker sharks use these contacts to cheating at poker games, so infrared contact lenses also known as cheaters used infrared contact lenses. However, please note that the infrared contact lenses for sale in Cards Lenses are recommended to be used in poker magic shows or amusement purposes only, using them as poker cheating devices in casinos or other gambling games will be regarded as illegal activity and therefore be punished by the law.
Click below WhatsApp for more info.