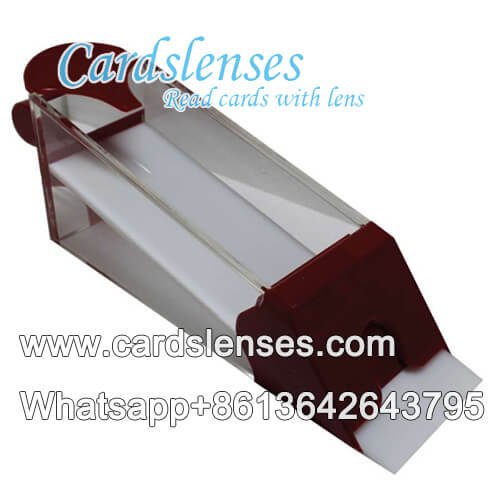 Long scanning distance blackjack shoe is made of translucent plastic, so marked playing cards scanner can see through the box and scan the barcode playing cards. But the place to install poker cards scanner need to test. Because, if the scanning angle between this long distance marked cards camera and blackjack shoe is not suitable, the scanner cannot read the barcode markings. Like other poker scanner camera, this scanning blackjack shoe can report each cards points to you and also the final ...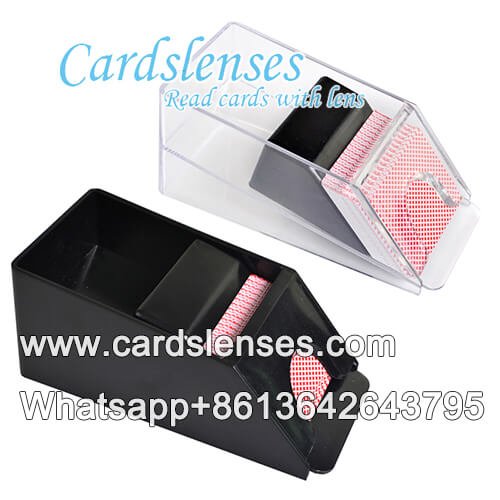 Nothing you can learn well in a short time, such as cards tricks in baccarat game. But here is tool to help you do well. It is scanner analyzer blackjack shoe. The playing cards scanner is hidden inside blackjack shoe. It is used to scan the luminous ink barcode marking poker. A signal transmitter is set behind, for sending monitoring image from poker camera. After the receiver accepts the monitoring image, you can use marked cards walkie-talkie and spy earpiece to hear scanning result. This s...
If you want to see more than ten cards at one time, this translucent blackjack shoe for handmade barcode playing cards is a good choice for you. This translucent blackjack shoe scanner is used with a special kind barcode juice cards. The barcode markings on playing cards are invisible as well, but you need to figure out the cards points by the different lengths of the barcode. Signals transmitter is built next to the tiny poker camera, and it will send the monitor images to a signal receiver o...